The quality of your logo printing to the surface of the USB Flash drive is directly related to the graphic design and artwork that you supply. Clean simple art will look better than cluttered or low resolution art.
We are always happy to review your artwork to insure that the artwork that you supply is suitable for printing.

The image area (printable region) varies with each USB flash drive. Your printing art must conform to the image area for the drive. The printing area for each drive is shown under the picture on the model number page.

The flash drive artwork must be an electronic file created as color separated vector art. The art is typically an eps file, an Illustrator File, or a pdf file. Fonts should be converted to outlines.
The art file can be supplied as an e-mail attachment or via file transfer. A simple way to transfer the art file is to use our our "upload a file" page. Contact a customer service representative for the submission details.

USB2USB can assist you with your design. Typically the cost for the graphic design and proof using your supplied logo and type is $30 to $60. Contact our customer service representatives to discuss the details of your project.

Proofing. We will provide a digital mockup of your artwork for approval before the printing will begin. Carefully review this proof. The final printed drives will closely match the approved proof. See the sample below.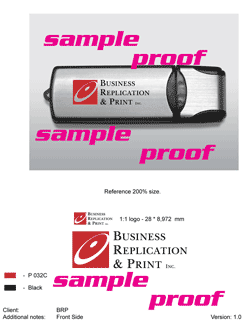 Need an Estimate? Use our online estimate form or call us: (916) 789-9929.
We are here to help. Contact us (service@usb2usb.com , 916-789-9929 ) if we may be of any assistance. Customer service representatives are available Monday - Friday from 7:30 AM to 5:30 PM Pacific Time. We are looking forward to serving you.
All orders are subject to our Standard Terms and Conditions.