We are all about custom flash drives. We will mold the plastic case of your flash drive to match any pms color. If you want your plastic flash drive case to be PMS 232, then we will make your case PMS 232. How cool is that?
If you want a hard gloss finish for you plastic case, you will get it. If you want a softer velvet feel to your case, you will get it.
Because we custom manufacture evey flash drive, you have choices. Lot's of choices. Don't be limited to what someone else happens to have sitting on their shelf.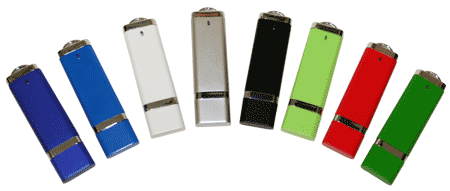 You select the model style, color, memory capacity, neck strap color, and packaging. Then you customize your selection by adding your imprinted logo. Finally, we can pre-load the drives with your own data (software, presentations, literature, etc.) We handle all parts of your project from start to finish. To learn more about the steps required for manufacturing your own USB Flash drive click here.
Have questions? Contact us (service@usb2usb.com , 916-789-9929 ). Customer service representatives are available Monday - Friday from 7:30 AM to 5:30 PM Pacific Time. We are looking forward to serving you.
All orders are subject to our Standard Terms and Conditions.